I finally had a chance to take an animal with the 450 Bushmaster I used my 355gr WFNGC hard cast at @ 1850fps load = I just didn't break the rifle/load combo in the way I thought I would though.
I received a panicked call Saturday around noon from my friends that own a cattle ranch up the Fraser Canyon in BC, Canada appr 3 hours drive from my house they asked me if I could come up and help them out = one of their certified organic grass fed heifers appr weight was 1400 - 1500lbs had gotten out and had a broken front leg they assumed a vehicle had hit it.
I quickly loaded up my gear in the camper/pickup and cargo trailer grabbed my Ruger American in 450 Bushmaster and headed up to the ranch on the way I called my 84 year old dad told him what was going on and that I needed his help minutes later he was also on his way.
The ranch is not set up to take care of something like this which is why they called me.
When I arrived we had a quick conversation they told me the heifer had been charging people and just about trampled them so a few minutes later from 40 yards away because she would charge if we got any closer we were set up and I took care of what needed to be done by putting the 355gr bullet 1" above and between her eyes she dropped like a sack the bullet traveled thru her skull and neck and exited I saw it hit the dirt behind her, as I was cutting the head off I found the gas check 1/2 thru her neck.
Load data and velocity at muzzle - 25 yards - 50 yards
355gr WLNGC's 31grs Lilgun
1852 1738 1638fps
1844 1740 1648fps
1827 1723 1626fps
To say I'm impressed with this short - light rifle/cartridge combo is an understatement.
My dad arrived shortly after the deed and helped with the work it was good to have his experience there.
The four quarters are now hanging in a cooler at a friends place we will have it all cut and wrapped in about two weeks.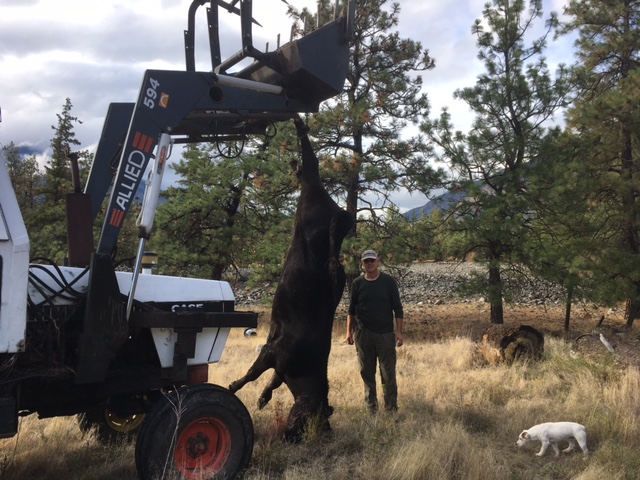 Finding gas check I had seen the bullet kick up dirt after it exited the cow's neck I had waited until the head was held high enough to miss the body.