Before i get into our hunting for this year, i'd like to bring up a moment of nostalgia for ya'll... You're back on the sand lot, or the school play yard or the local park that had a baseball diamond that you used to play softball with your buddies in the summer. You're up to bat and get thrown a nice soft pitch low and a little outside. You swing the hickory and really connect - one of those hits that you feel in your wrists and you get that resounding *thwack* sound from as it sails high and far out into the outfield..... and you knew when you got that nice solid sound... it was as good as over the fence.
Ok enough nostalgia - for now at least 8)
So as we wind down to the last couple days of firearm deer season this year here in michigan, i'd like to share our experience with ya'll. Other than my brother going up to hunt the 29th/30th we're pretty much done for the season.
weather played a huge role for us this year - mostly in keeping the deer moving in very unpredictable patterns. I cant say for sure if the super moon had anything to do with that or not, but i'll say this - being able to walk into your stand at a little after 6am without flashlights is kinda weird!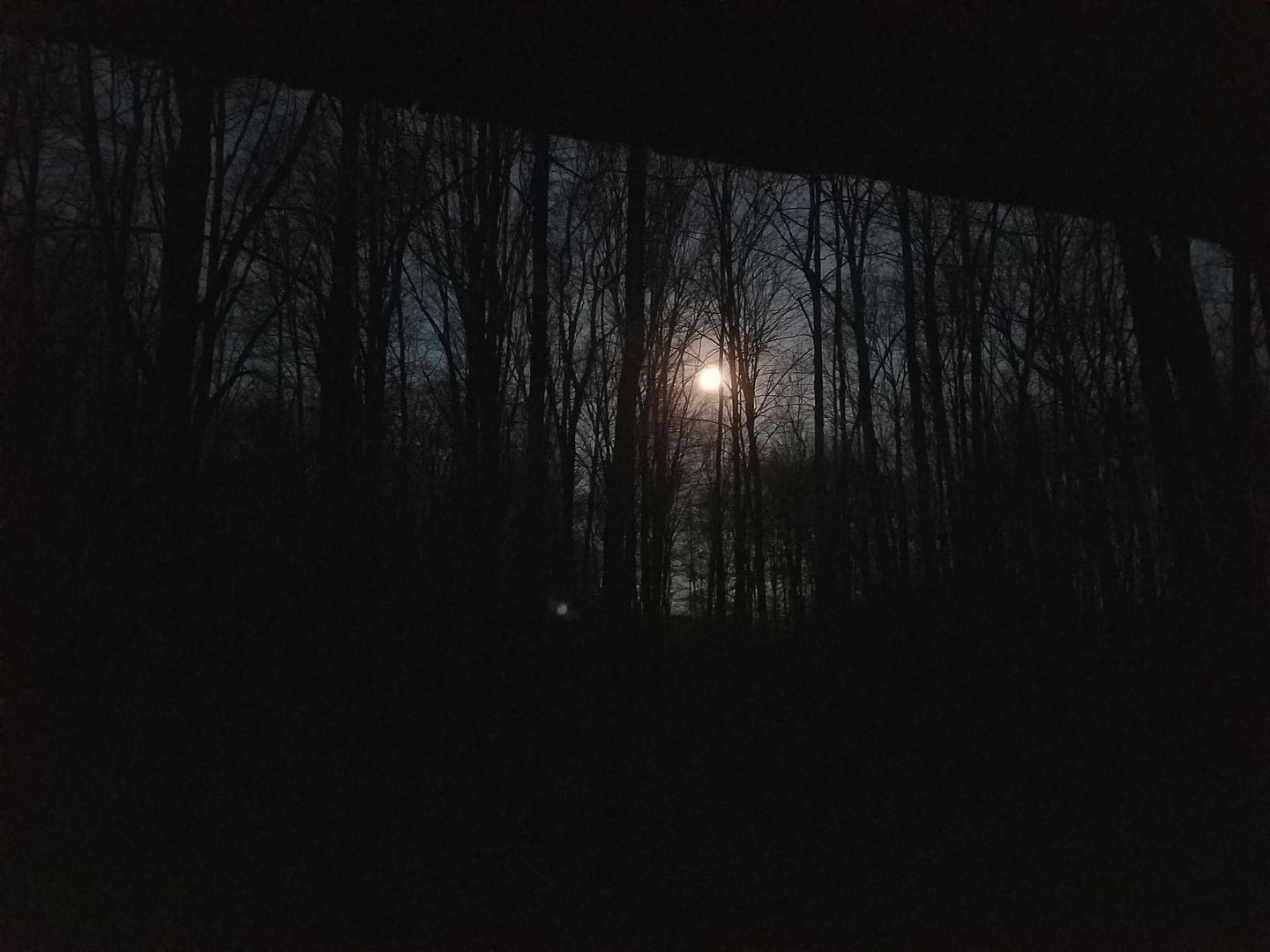 the fog rolled in a little after 9am opening day - which in places was quite thick. not too bad back in the woods, at its worst i had about 40 yds of visibility
still a bit on the creepy side to watch a wall of fog roll towards you to say the least
at least with the rule changes i was able to bring my suppressor along, so i was well prepared for any zombies
;D ;D
temps were all over the map and deer were not really moving well. thursday afternoon temps were in the mid 60's, and friday we hit 69*F, only to snow on saturday! I was sitting in the blind on friday in jeans and a tshirt, sweating. Firearm season for us is Nov 15-30th.
if you look at the high/low we had 24 hour temp swings of over 40 degrees!
There was some movement opening day - my cousin bagged what turned out to be a little button buck about 8:30am.
as you can clearly see, he still had his collar on (and unless my bro tags a poodle, wins our annual "camo collar award")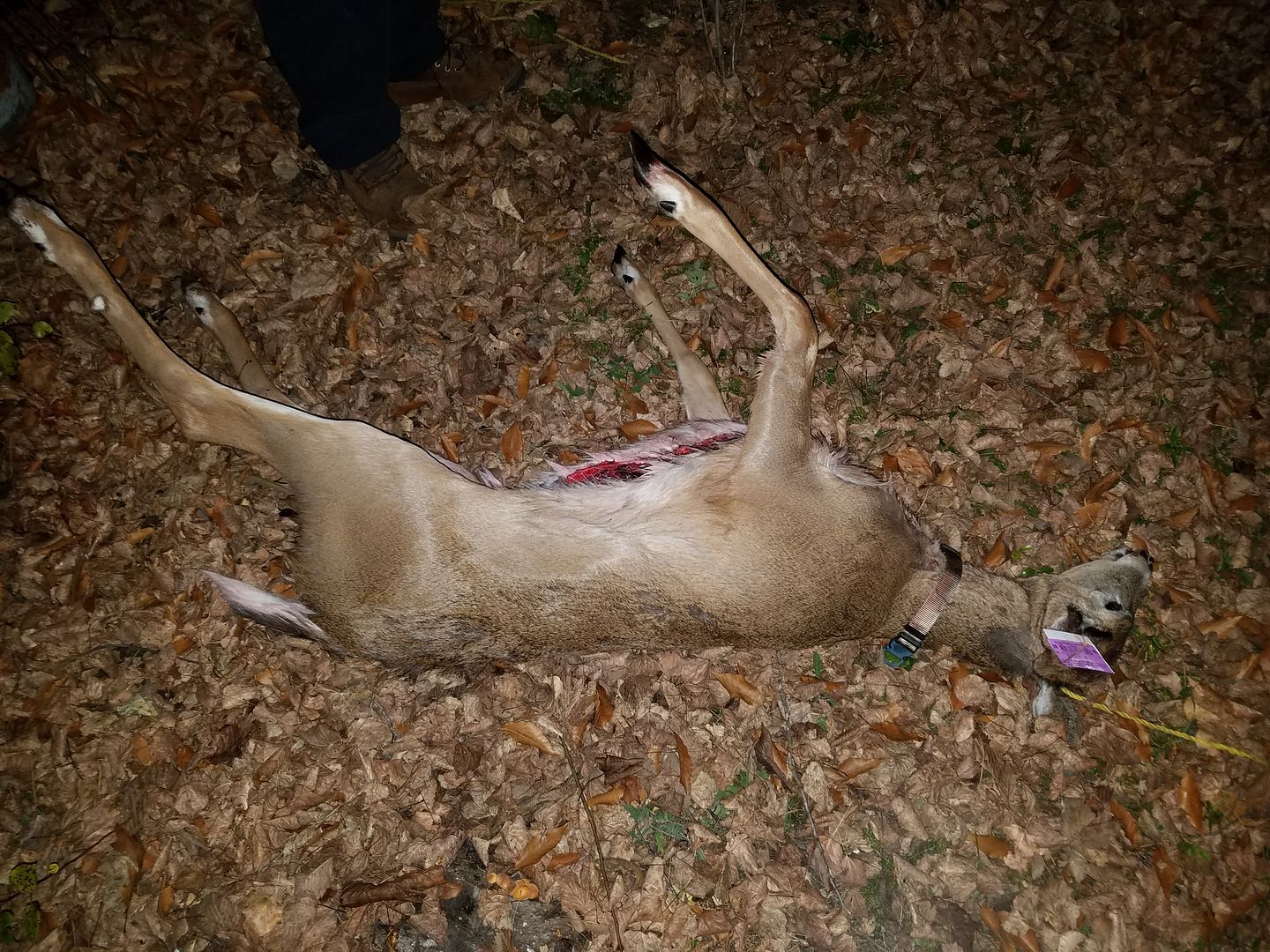 the amish guys who we decided to try out for their butchering this year decided he needed some horns when we dropped him off and they all had a good laugh when we told them not to worry it had its puppy shots already
about an hour later our friend chris that hunts with us muffed a shot on a nice buck - he's got a natural hand/arm tremor, but usually is a decent shot so we suspect there was a fair amount of buck fever going on. My bro spent 2 hours helping him track the deer and all they could find was enough hair to look like a barber shop floor where he shot it, 3 little pinpricks of blood, and little fluffs of hair for about 300 yds until even that stopped. it was quartering away from him and we suspect he shaved the chest/left front shoulder area and that the deer will live to tell a story another day.
i saw my first deer on the 2nd morning - a tiny little button buck who at corn under my bucket feeder for almost 45 mins. Other than that the woods were fairly boring this year, other than squirrels and birds.
on friday morning 11/18 just after sunup i had a half dozen baldies out in front of me - 3 of which were yearlings. I was watching for the trailing buck as there were a couple large mature does with the group. The yearlings were under the feeder munching corn. Sure enough at about 720 the spin feeder goes off and scares the hell out of the ones up close and my hopes of antlers ran off as 3 deer sent the white flag up about 120 yds down in the swail out in front of me and up the back hill when those spooked by the feeder. I had a serious moment when i thought about putting a bullet through that spin bucket motor >:( >:(
unfortunately opening week got cut short by a day for me due to an emergency work order, so saturday afternoon saw me packing up to head home. not terrible since i did get 4½ days of solid hunting in, but i was hopeing for 6 - especially with the poor results early on.
Went back up night before thanksgiving. Bounced all around the property between thursday and last night. I was spending my mornings in the woods and afternoons overlooking the fields.
(this is an earlier picture of one of the plots i hunted, field of turnips)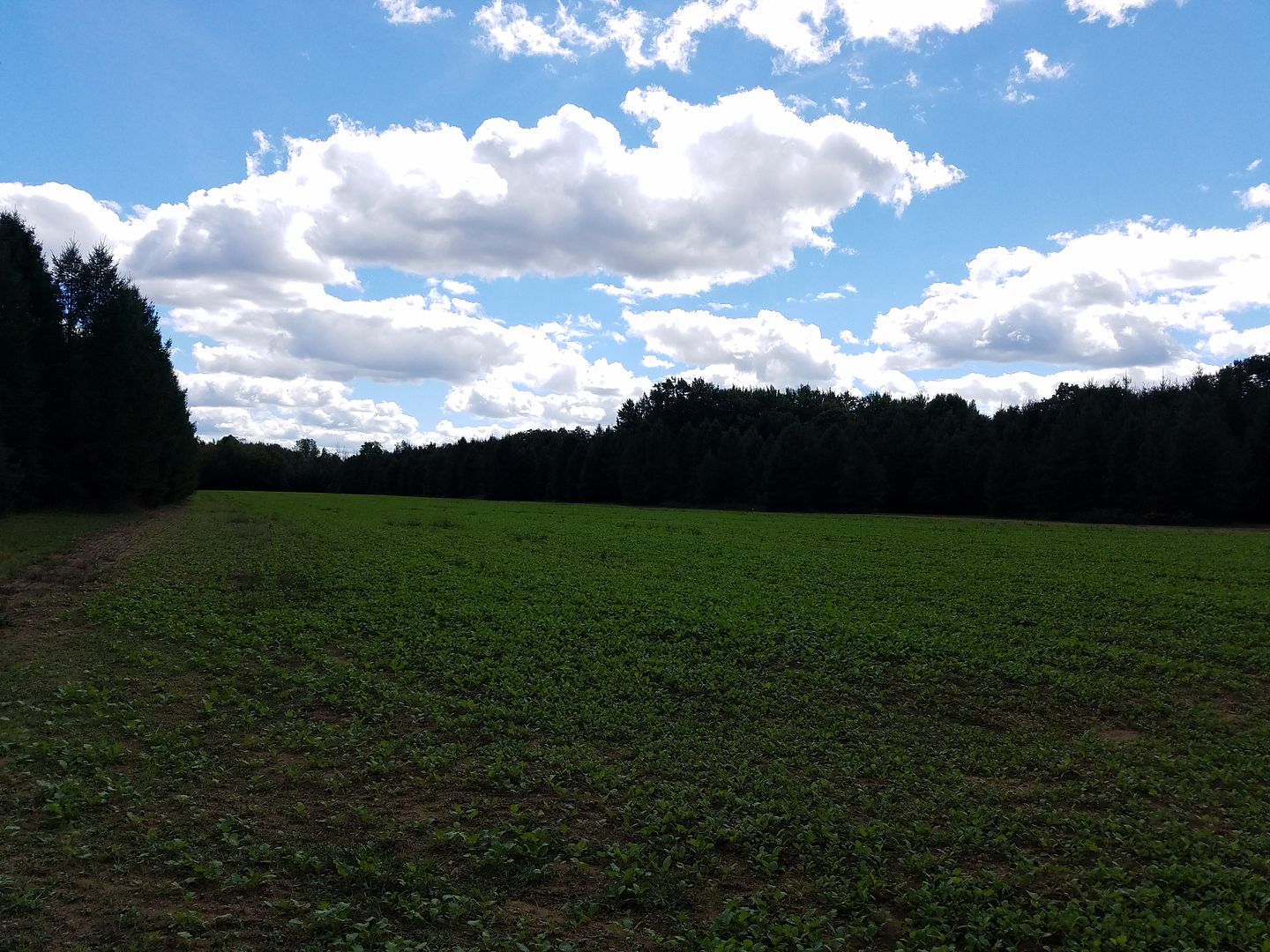 had a good group of does in front of me friday evening over the turnip patch but had forgotten to get a antlerless tag when i was in town on friday :-[ wasnt too much of a heartbreak because they kept looking over their shoulders into the trees, so i was still hoping for a buck to wander out with them.
finally after 9 days out hunting (and a doe tag in hand!) i had some deer out in front of me yesterday evening - 2 big momma's and a couple babies wandered into the turnips to chow about 5pm to my northwest about 60 yds out. one of them must have busted my silhouette through the window though as they spooked when i put my gun up into the window. However it may well have been the other group of deer coming out to my southeast that i couldn't see yet.
with about 15 mins of hunting light left, i had a group of 4 does approaching me from over 200 yds out - traveling south to north down the turnip plot. with mere minutes left to go (and only a short time before i'm packing up to head home) one of the bigger ones in this group crosses the 100 yd point, so i kick the front of the blind to anchor her in her tracks and she's staring right at me, lightly quartering away from me, her body maybe facing 5 o clock. Since its getting dark, and a light fog is coming in i was in no mood to track, so held the crosshairs of my 300 blk right in the middle of her head and squeezed the trigger. Remember that nostalgic *thwak* sound i mentioned earlier? Thats the closest thing i can compare the bullet impact on her to when shooting suppressed.
DRT - flat on her back with all 4 pins in the air, lasered at 95 yds.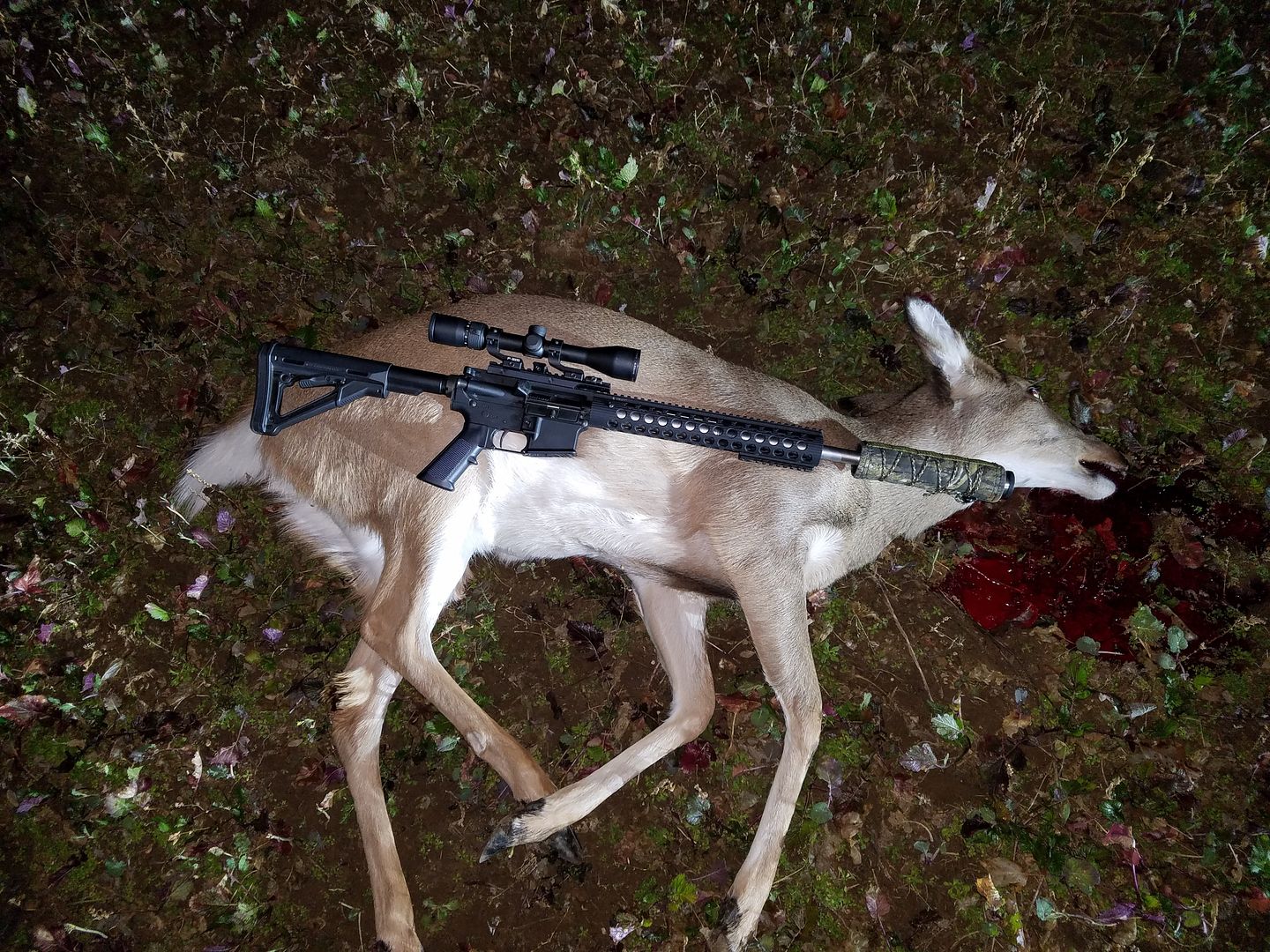 in the right cheek, right through the teeth, and out just behind and below the left ear. Exit hole was about 1". She was dead before she knew i pulled the trigger and probably before the bullet came out.
i even managed to get some blood on the truck to christen that too!
please remember to fasten all safety restraints and keep your seat backs and tray tables in the full, upright position!
i'm guessing she probably field dressed at around 120 lbs, and i think i left about 5 lbs of fat on the ground next to the gut pile. I figure she's about 1.5 years old, but no way to tell at this point i doubt as aging by the teeth is going to be difficult, however she had definitely had at least one fawn as her udders were tougher than shoeleather!
as a closing note - this year was probably one of the lowest number of shots i've ever heard while out hunting. The weather was not favorable for daytime deer movement at all
i had days in the field were i doubt i heart 10 shots total for the whole day, which is very unusual around us as there's a LOT of hunters in the woods. ANd its not for a lack of deer - the herd is quite strong and we had 5 or 6 different bucks on the cams this fall and were regularly seeing a dozen or more deer out in the bean fields in the weeks leading up to the season.
hopefully for next year the weather will go back closer to 'normal' for us and we can get back to a regular 4-10 deer season on the property.