Guys, I need to ask for a bit of your expertise. First things first, I'm new to the .450BM, and I'm new to the AR platform, but not new to shooting. So I'll have to ask you to pardon any incorrect terminology.
I have four magazines. Two of them are the Bushmaster factory 5-round mags, which actually only hold four rounds. The other two are ASC 9-rounders that I just picked up from Franklin Armory. I cannot get a single round to feed into the chamber from any of the four of them. I'm also having problems with brass extraction, but I'll get to that in the another comment.
Last week, I field stripped, degreased and used Froglube on everything then took my new 450 to the range for its first shooting session. I tried the factory mag and couldn't get a round to chamber. I looked over the mag and it appeared the half circle they cut in the front of it needed deburring because it looked like the neck of the brass caught up on that. So, I opted to load each round by hand by locking the bolt back, dropping a round in the chamber then releasing the bolt. I looked over the other factory mag and it was the same way. The ASC mags were not as bad, but I couldn't get any rounds to load from them either.
I have since used my Dremel tool and deburred the magazine fronts and ground a bit of a downward bevel into the half circle cut out, thinking that might help the neck of the round glide up into the chamber. I tried loading the rifle today and once again, I couldn't get a single round to load from any of my four magazines. So now my guess, after reading several posts on here about polishing the lips and possibly prying them outward, is the problem is with the lips. It seems like they are holding too tightly on the brass and not allowing the bolt to push them forward. Granted, it's not an educated guess, but I'm at a loss right now on how to make this rifle work. If any of you have any advice on how I can fix this problem, would you please pass it my way?
This photo shows how far (actually not far) the bolt pushed the round out of the mag before it stopped:
Should the tip of the ammo be pointing higher up than this?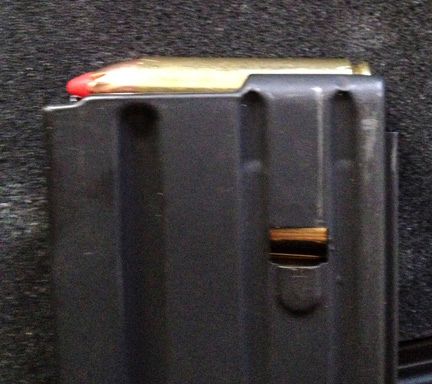 Front view before trying to chamber: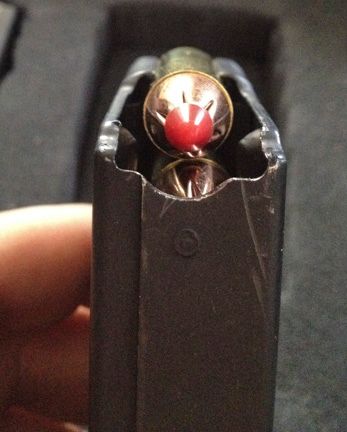 Top view before trying to chamber: