There have been frequent posts on this site from persons asking about loaded 450B ammo with lead-free bullets for hunting in California and other locations with similar regulations.
I found a company that offers lead-free loaded ammo in 450B. A link to their web site:
Load-X Ammunition Company
Here's an screen shot of the pertinent entry from their from their catalog:
.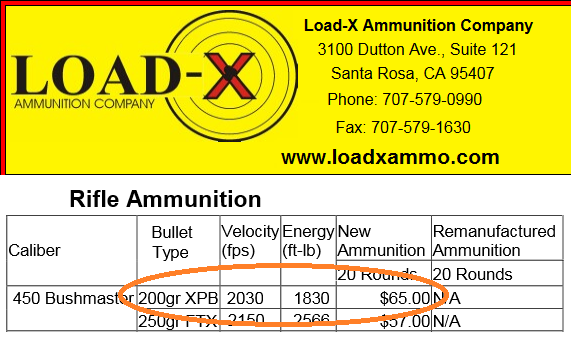 .
I called them recently, and they stated they were out of stock, but would soon load up a bunch. Interested persons might phone or email them about these loads. (Disclaimer: I have no connection with the company beyond the inquiring phone call.)
The 200-grain Barnes XPB (Barnes #: 30554) in my limited experience is a fine hunting bullet. Hoot has recommended it in several posts.
I am puzzled why the load with the 200-grain Barnes bullet is listed in the catalog at a lesser muzzle velocity (2030 fps) than the 250-grain Hornady bullet (2150 fps).
--Bob
edited to update image link