I have a 450 Bushmaster I got several years ago, and then upgraded it a bit later to add a muzzle brake, something it badly needed, because shooting this AR-style rifle off a bench is not real pleasant. It took awhile to get everything lined up properly, but yesterday was the first time out with the muzzle brake, and things went well.......mostly.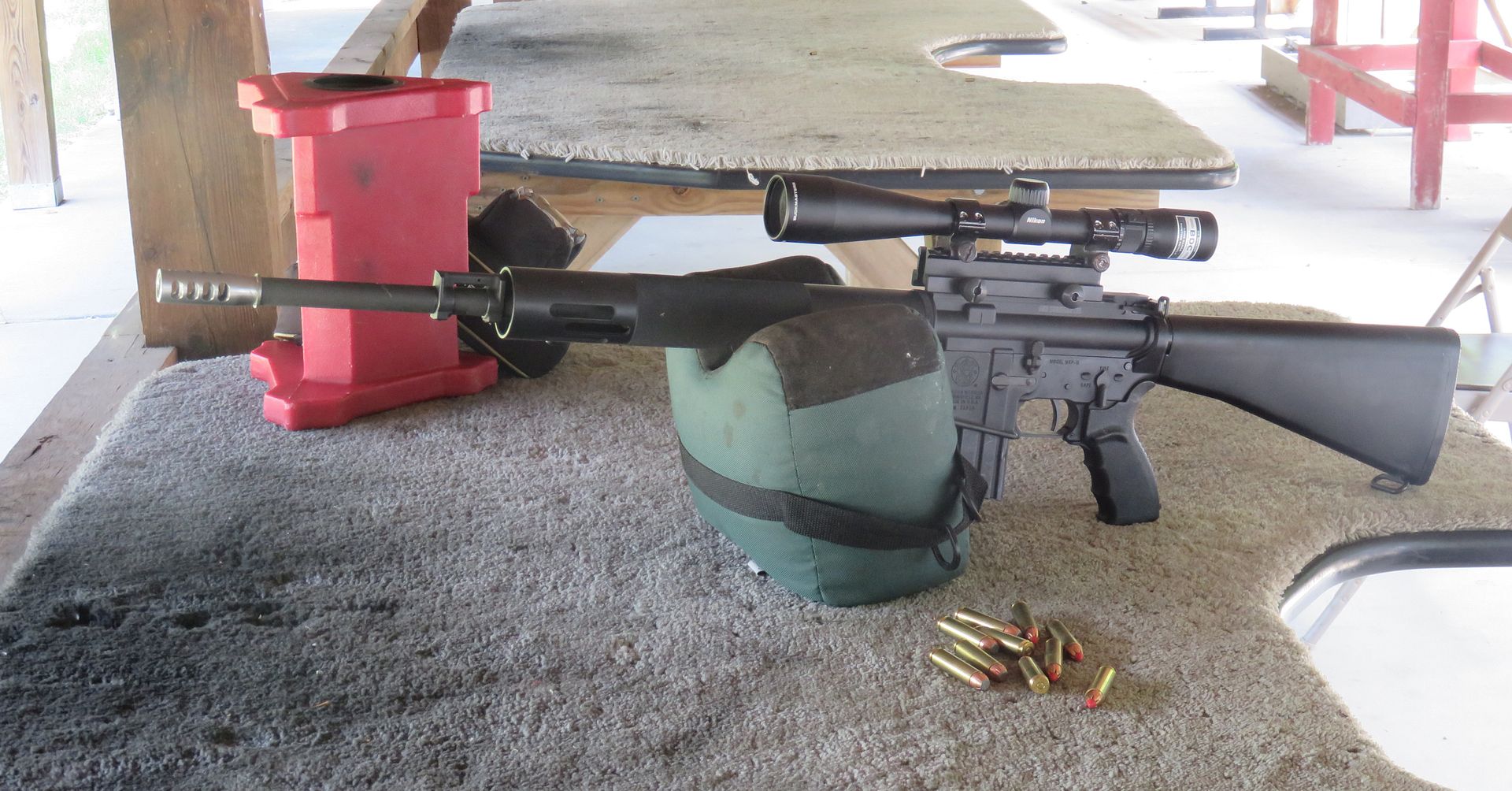 The loads were 250 grain gummy-tips and 300 grain softpoints, the heavy bullets didn't shoot as well as I would have liked, so when they were gone I got out the loads with the 250 grain Hornady FTX's.
I wasn't going to dial the scope in until I had settled on a load, so when groups were left-of-center I didn't worry about it. I settled in behind the scope and touched off three rounds, all careful-like, and was rewarded with a nice oblong hole of about .70". I slid back behind the scope and pulled the rifle in tight, started taking up the pressure on the trigger, then a little more, then..........
BLAM BLAM!
Yes, the rifle doubled. Happily, there were only two rounds left, the first shot went right into the previous hole and the second was a half-inch left of the rest, and I was still trying to figure out whether this was worth having a heart attack over. I was pretty freaked out. I've shot machine guns before, several actually, but this was totally out of the blue, and thankfully my follow-through was good enough to keep the gun pointed at the target.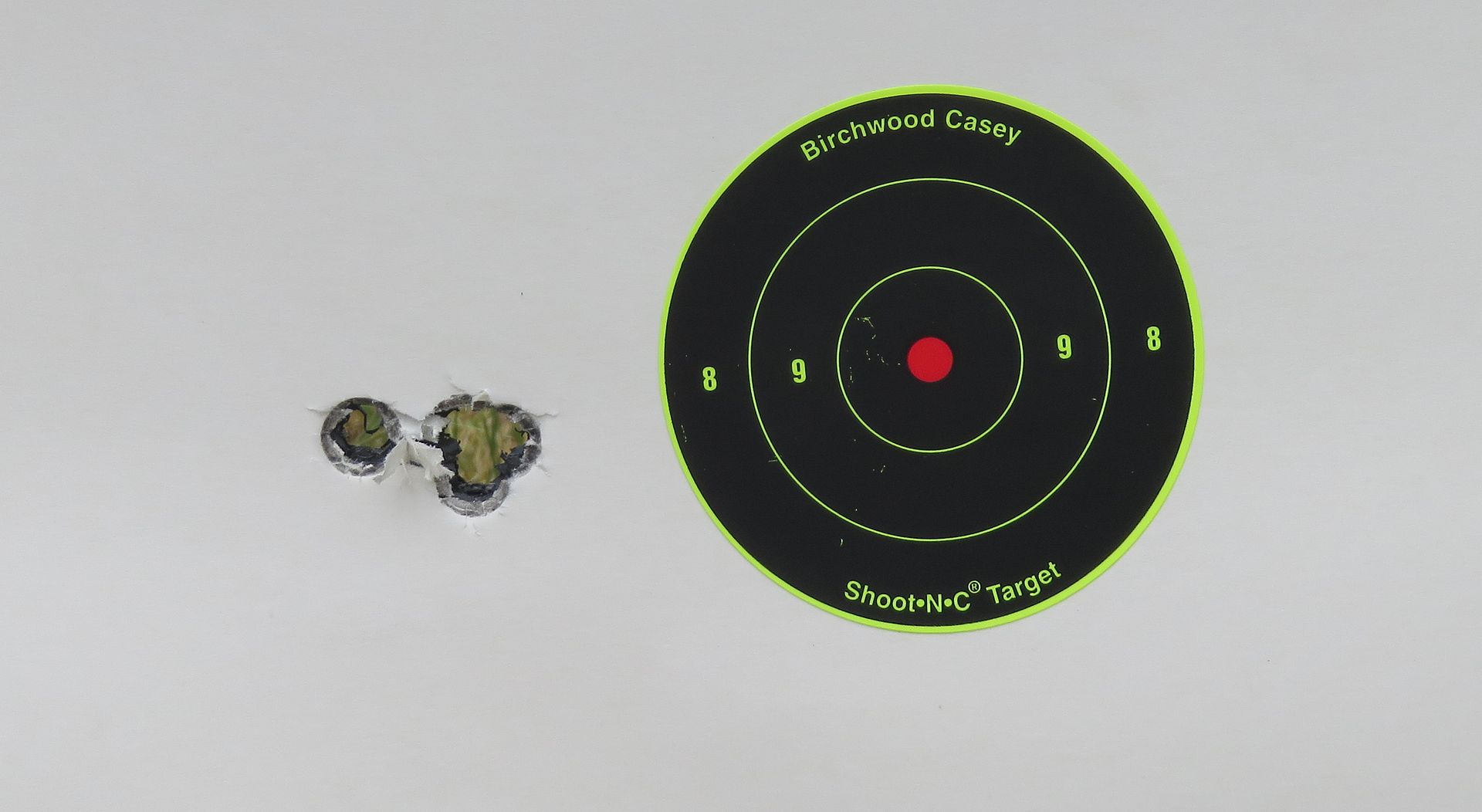 All this was at 50 yards, mind you, I don't generally shoot at 100 until I'm fine-tuning the loads.
After having a day to think about it, I don't thing it was the gun's fault, it was more mine. I think I acted like a bump-stock, the gun recoiled into my shoulder while my trigger finger stayed where it was. So the trigger reset, and as the rifle bounced back off my shoulder it met my still-stationary trigger finger, and pushed into it hard enough to fire. It happened so fast that I couldn't react, but I do remember looking to my right and seeing two large gleaming hunks of brass, both still airborne, sailing over the bench next to me to clatter on the ground 20 feet away. It was pretty surreal.
Has anyone here experienced this kind of thing before? I've been shooting AR's for about 25 years, but this is the first one with enough recoil to cause this issue, I'm convinced a softer-shooting gun wouldn't be apt to double this way.
I can assure you that if it had happened with a full magazine, things would have been pretty skeery. When the 450 BM was brand new several years ago, a guy from my range bought one and put it in a bump-stock. I was there the first time he shot it with full-power loads, he was trying to keep his shots in the dirt berm at 25 yards and none of the bullet impacts were within 10 feet of each other. The shooter was tall and thin, and while he was hip-shooting it he looked like someone had hooked him up to a 220 volt power line, he was getting shaken and stirred pretty badly until the mag finally ran dry.