For all of you waiting for, or who got your shipment, here are a few observations in lieu of folks doing testing a submitting Range Reports.
This is a .452 bullet unlike the Barnes XPB which runs .451. Not certain yet how that will impact pressure, but it's safe to say that a recipe for the Barnes 200gr XPB would produce a faster, higher pressure load using the COP 200gr, all else being equal.
Didn't have time to photograph one next to the Barnes 200gr XPB, but as Pitted Bore already noted, they are only similar from a distance. Aside from their weight, they are completely different bullets. The COP looks like it will expand at lower velocities, having a .170-.175 diameter, parallel shaft, HP bore. The finish on the COP bullets looks like what I imagine the Barnes XPB bullets looked like before they were tumble polished. Not that it has a significant impact upon performance. The COP does not have driving bands, but it does have a crimp groove. The groove is located where if you seat the bullet to taper crimp into that groove, it would produce a round with a COL of 2.20 inches. In my barrel the Distance To Lands is 2.36 which would result in a .16 inch jump. IMHO, that's a good dimension for this caliber.
Here's a dimensional and weight stat table for a bag of 25: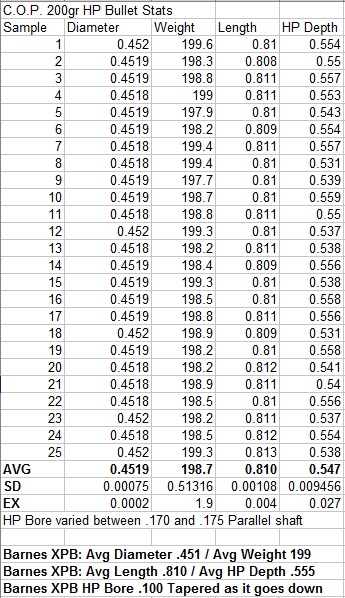 I included some averages from the Barnes 200gr XPB also.
I hope to cut one of each in half and photograph them so you can see how different their hollow point cavities are.
Let the conversation begin...
Hoot