Bob, I think Sagerater isn't as concerned about the bite width as much as folks who implement the crimp further down the case since he is using his in the conventional way that the FCD's were designed to work. Sagerater, Bob is saying that the narrower bite is critical to function when making a crimp anywhere other than right at the mouth, which has been how everyone so far has been using it here.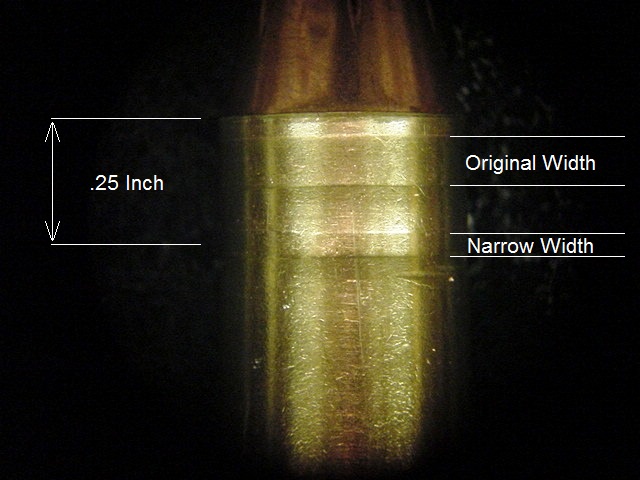 Each has its purpose but relies upon a different mechanism to get there. The wide crimp, which relies upon more surface area contact for the sake of friction to achieve its retention quality, will not propagate through the case very well when crimping further down the case. Too much metal to move with opposing, non-moving metal on either side. At the mouth of the case, one side of the crimping force is unopposed, much like a taper crimp. On the converse, a narrow crimp, which relies upon imprinting a small groove into the surface of the bullet for it's retention quality, will have less bullet surface area to act upon. The latter is a good match for bullets that already have a groove or cannelure in them, into which to drive that narrow ridge. Smooth side bullets may be better served by going after the increased friction attributes of the wide crimp applied at the mouth. The devil in the details is the challenge of applying that mouth crimp with enough force to generate enough friction to have a positive effect upon the bullet's retention without compromising the ability of the mouth to catch the lip at the forward end of the chamber.
Bottom line is, the Lee family of FCD dies, regardless of caliber are intended to normalize the cartridge crimp variation across a run of reloads more than add significant amounts of additional retention. That hopefully reduces velocity SD's and tightens up groups. I myself own half a dozen or so FCDs for my bottle neck calibers I reload. In most cases, they accomplish exactly that intended result. In a few they don't change it, or at least not to the degree that it helps performance. Particularly calibers that have long necks to start with.
Hoot