"Got more balls than a Big Brass Monkey"
I received a box of Lehigh Defense 245gr,
Solid Brass
, Xtreme Penetrators, to test last year and never got around to them. Well I finally did today and let me tell you, If I were going to compete in a 450b Precision Shooting Contest these have knocked my venerable 225gr FTX bullets out of first place, for my personal best 5-shot, 100yd groups and in 3 charge weights and two different powders! If I had not shot them myself, I would have had a hard time believing someone else got them to fly so well, especially from an AR platform. I'm a good shot but not a great shot and this was my first time out with my 450b this year to boot. It usually takes me a session of two to go my mojo back, but
Da'yum!
they made me look like an old hand at this. The Bartz 20" 1:24 upper ran flawlessly as always.
The first time out each year for me involves a lot of planning so that I remember to take everything I'll need, short of the kitchen sink. I came close but forgot a crucial tool, especially so when dealing with an unknown bullet for the first time, for which I have not seen a published load. You want to proceed cautiously when breaking new ground. I was kinda lucky but not totally in regard to what charge weights
I guessed
were appropriate. As it turned out, I started my ladder where I should have been finishing, so my test was somewhat truncated and I have 20 rounds that need to be pulled down.
I've always believed that Case Head Growth was the best indicator of where you are in chamber pressure. At least without buying a pressure testing barrel. A good Micrometer is a good companion on missions into the unknown like this and I forgot it. So, I was left at the mercy of my chronograph and my gut feeling when I touched off the rounds, to keep me out of trouble. I'm not much of a subscriber to gauging exotic calibers like the 450b, based upon where ejected brass fall, not to mention I use a brass catcher anyway, so that they don't get dinged up on the concrete pas at the range.
OK so based upon how the 250gr FTX performs, I decided to test these 245's using charges from 36gr of Lil Gun to 39gr, as an initial evaluation. I also loaded up 5 rounds each with W296 using 40 and 42gr. For my control rounds, I loaded 5) 225 FTX and 5) 250 FTX over 38gr of Lil Gun. The latter two turned in velocities close to what I got back in 2015 when I rook the Bartz upper out for a test drive.
Enough Foreplay, here's what made my day:
Here's the loads
Ready to Rumble!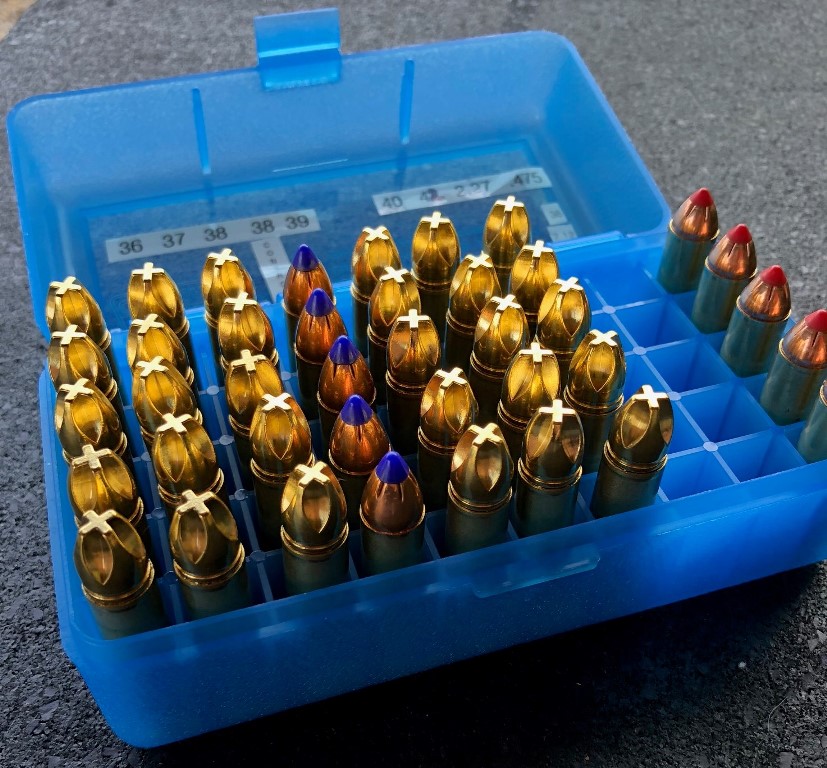 WRT taking the micrometer to the range. If I had, I would have seen how they were stacking up and would not have relied upon my gut feeling for how the rifle handled, to decide to skip the 38 and 39gr rungs on the ladder.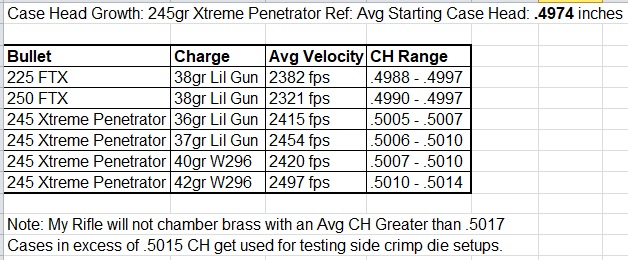 Here what the tested charges achieved: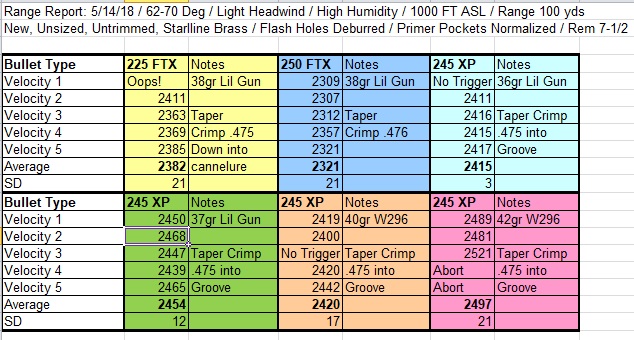 Now for some target Porn! 1/2 Inch Bull and 1/2 inch grid. 100 yds off of a BR front rest and rear heavy sand Protektor bag.
The 225 FTX over 38gr Lil Gun were the first 450b shots I have taken in 2018 and it shows. I had left off last year with the scope set for slow, plodding, 325gr FTX's so the first shot almost missed the target. These and the 250 FTX were as much to get me into the groove of shooting again as they were Control Groups: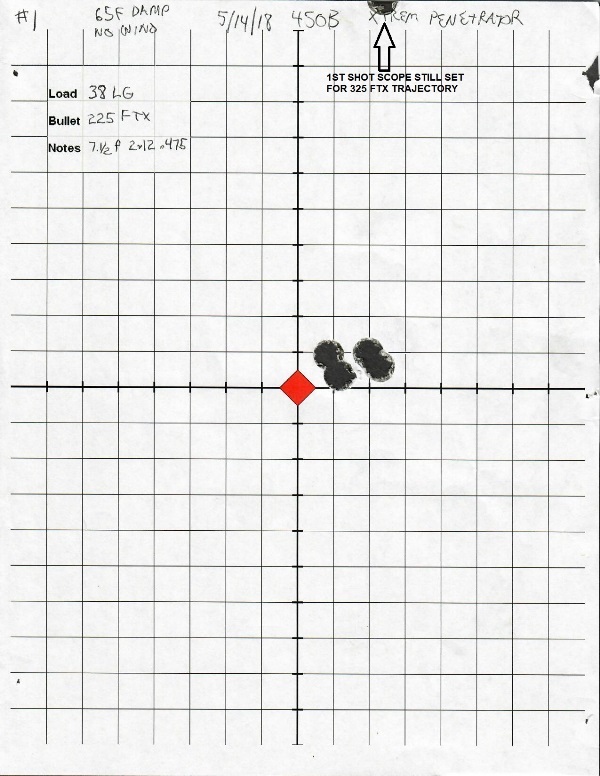 Next were the "Blue Tip" 250gr FTX's. They fly identical to Red Tipped Hornady's: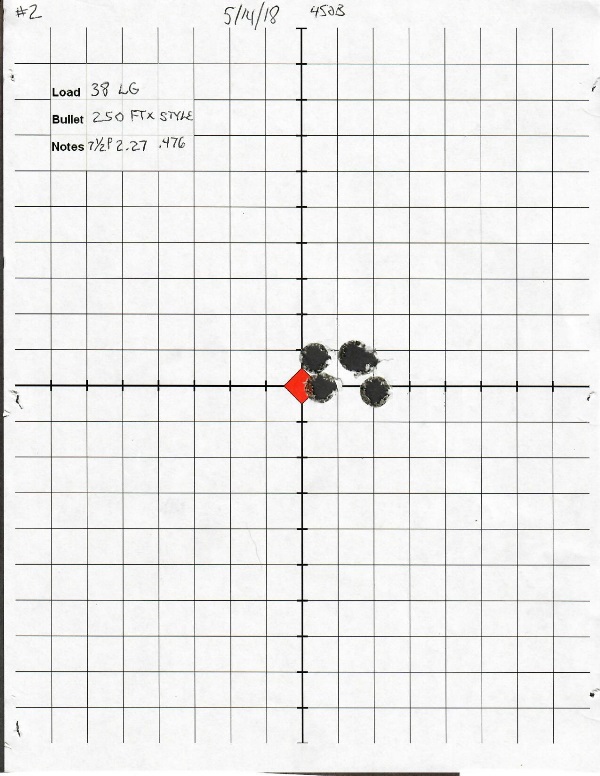 Now the juicy pics! First up, the 245 XP over 36gr Lil Gun.
Pinch me!
: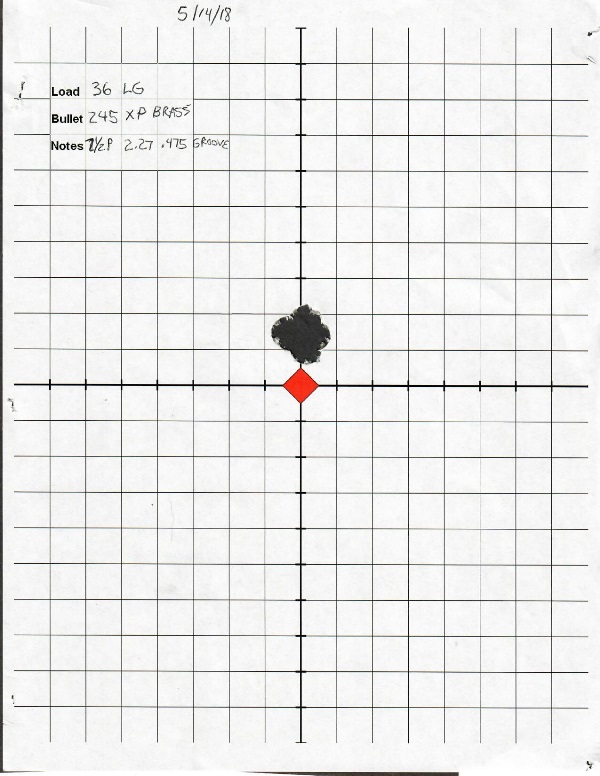 Even though they were hot, I just had to try the next 1gr increment.
Shake me!
: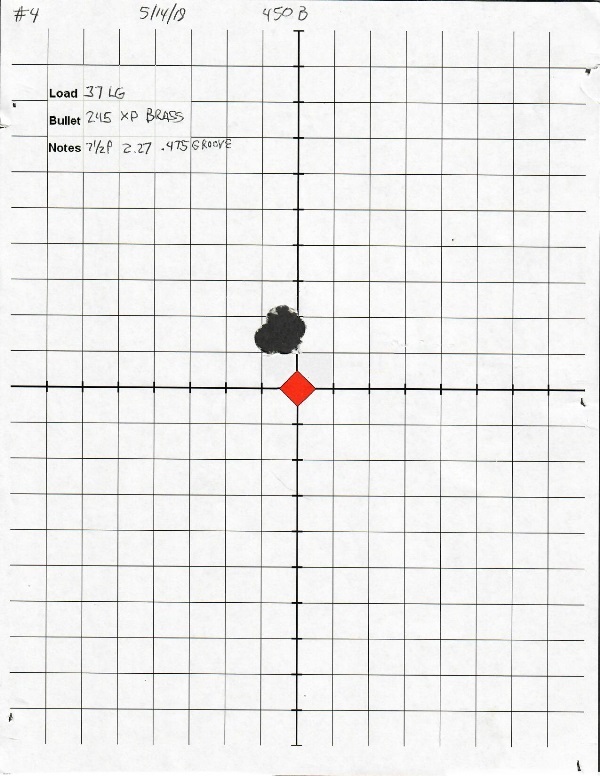 Those were as hot as I wanted to go with Lil Gun. The poor Bartz was Rockin and a Rollin.
On to the W296 and again, I was guessing where to start the charge at. Based upon my experience in the past when comparing the two powders, I started off at 40gr.
Throw Cold water on me!
: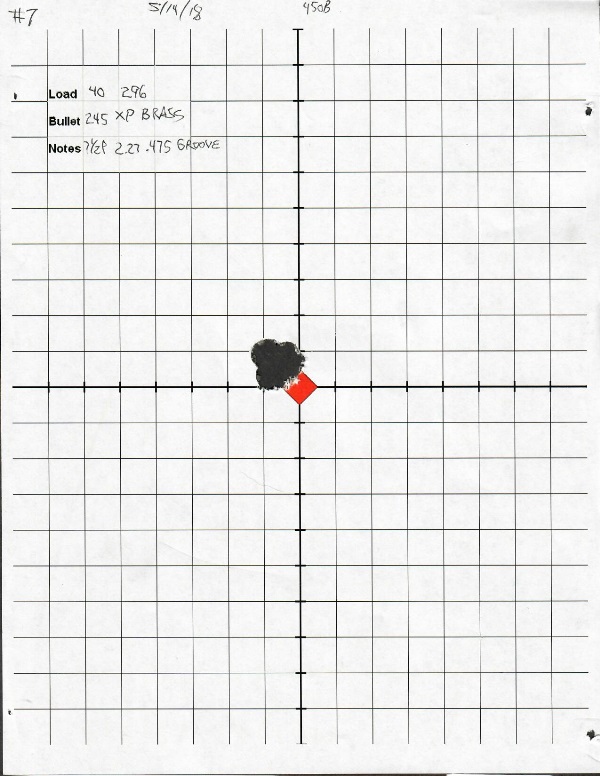 Hmmm, just about the same velocity as 36gr Lil Gun. Wished I had just gone up 1 gr more instead of 2. Oh well, here goes 42gr: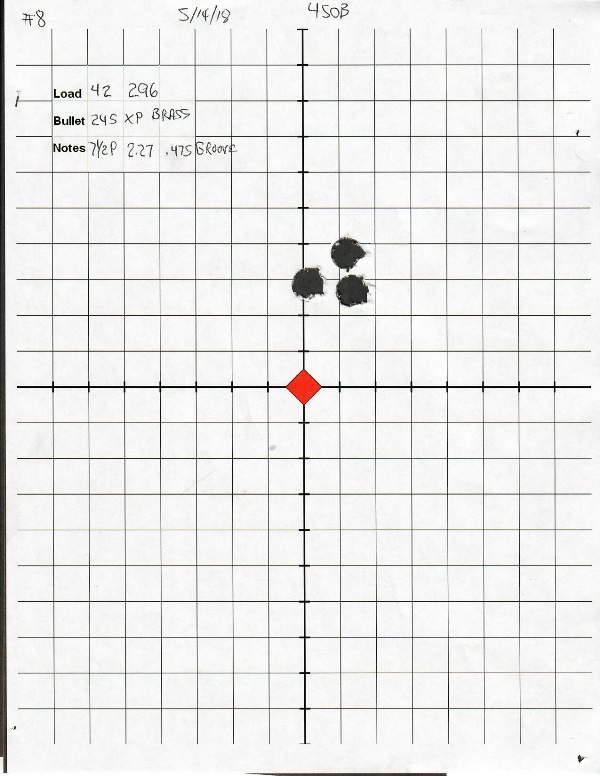 They felt as out of the sweet zone as they shot and I aborted after 3 rounds. The Bartz was grunting!
Too bad I don't have a use for penetrating rounds as these bullets shoot phenomenal if you keep them around 2400 +/- fps.
It was quite a heady experiment. I might just have to try these over IMR4227.
"In spite of my faults, I'm a sittin' on a Rainbow..."
Hoot