Uff Da! It was so hot that day, I saw two trees fighting over a dog!
On the heels of my last experiment, this outing reminded me that I'm still just a mortal. Well that and the fact that 230gr FMJ's, regardless of whether they're round nosed or flat nosed,
don't like me!
The day started off at a very comfortable 69 degrees at 9 AM and in the shade of a 100 ft high bluff adjoining the rifle range on the east side. The 300gr Hornady SST's tried to do their part over IMR4227 but that powder, which I used for the first time, was too bulky. I've taken 300 grainers faster with W296/H110 and still had room for enough powder to get in trouble should I choose. IMR4227 maxed out in the case and I was still only in the 1900's for velocity. With a shorter bullet, I could have gotten a little more in there, but I didn't get the feeling that a little more velocity would have made them shoot any better. Some times I've seen other 300 grainers just begin to tighten up about the time I ran into pressure signs but that was not the case on this outing. If anything, the SST's did better at less than the max charge. One bonus I noticed with IMR4227 pushing these 300 grainers was good (by 450b standards) velocity SD's. Very stable and the velocity vs charge increase was pretty linear, unlike faster, more volatile (
cough...
Lil Gun) powders. Also a kinder, gentler recoil impulse.
About the time I finished the 300 SST leg of the outing, the sun crept over that bluff and the temperature sky-rocketed. Thank goodness for the shade provided by the wood roof over the shooting positions and the light wind out of the south. Still, by the time I left, it was 95 and still climbing. Needless to say, my DIY barrel cooler got quite a workout, keeping the barrel to just warm to the touch. Less than two weeks ago, hot coffee helped keep the cold at bay but this outing belonged to my Coleman cooler stocked with Diet Dr. Pepper on ice.
The 230gr fmj-fp bullets like round noses ones in the past, had velocities all over the place at just about every charge rung. That reinforces my belief that bullets in this caliber, lighter than 250gr, really benefit from the case having a strong hold on the bullet. I may return at a later date and try some W296 or 300MP pushing them as I had some weird coloration, not unlike annealing, occur. I mentioned that in a different, recent thread. Lastly, I need to complain about my LabRadar chronograph one last time. I lost a lot of readings while testing the 300gr SST's due to the nuances of setting it up under a roofed shooting position with a concrete pad with a plywood ceiling 8ft above it, when using a muzzle brake. Sound reflection from hard surfaces can be incredibly frustrating with that chronograph. Move this a little that way and reposition that a little this way and the thing either goes berserk or doesn't trip. Its so goofy that I absolutely can't use it alongside my Lead Sled if I wanted to. Some odd reflection of the shock wave. What's totally crazy about that is when I spoke about it to the CSR at LabRadar, they were already aware of it from other customer's complaints!
That having been regurgitated for one final time.
When it works it is truly magical!
My biggest problem, not being retired and being a home owner, is I don't get out with it enough to remember from my past setup mistakes. nuff said...
Here's the ballistic report:

and here's the 100yd paper results. I didn't commit a lot of space to them since bad still looks bad, regardless of size:
First up are the Nosler FMJ-FP over Lil Gun.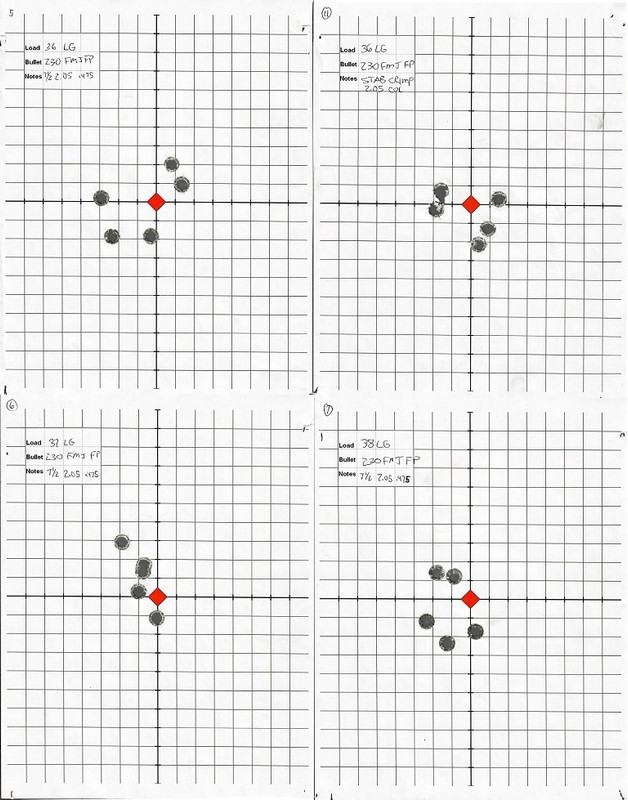 and further up the ladder: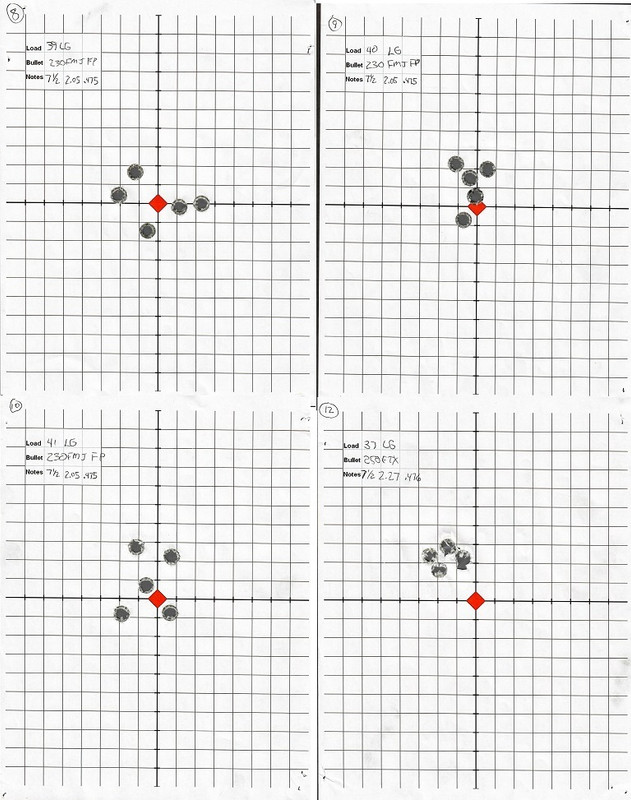 Target #12 is my 250gr FTX over 37gr Lil Gun "Control Group"
Now the Hornady 300gr SST over IMR4227 A little bigger too...: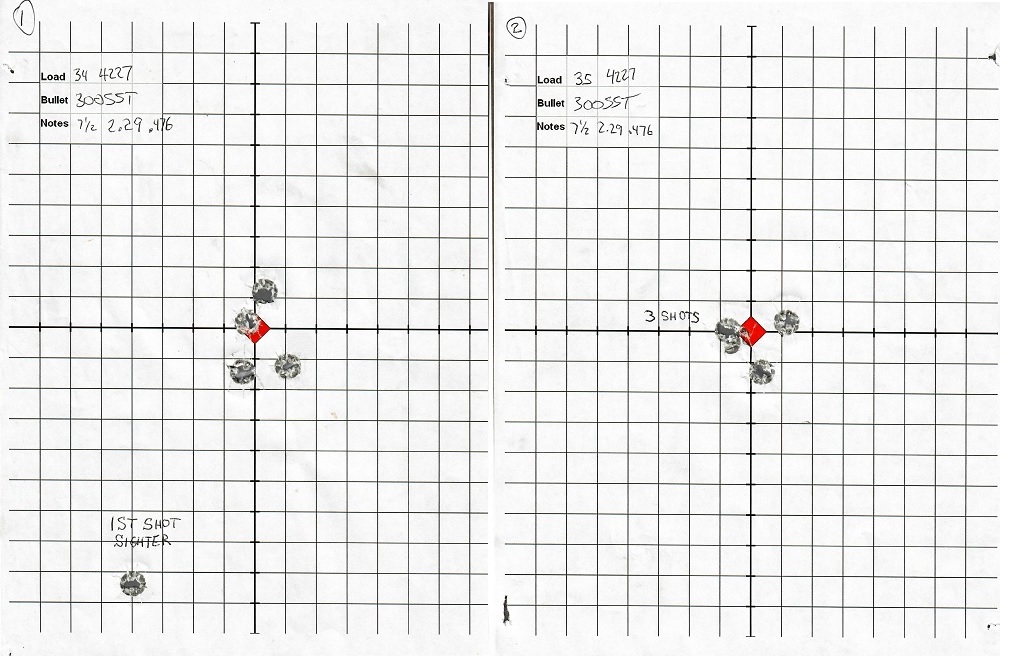 Forgot to adjust the scope for the POI change after the 230 grainers, And again further up the ladder: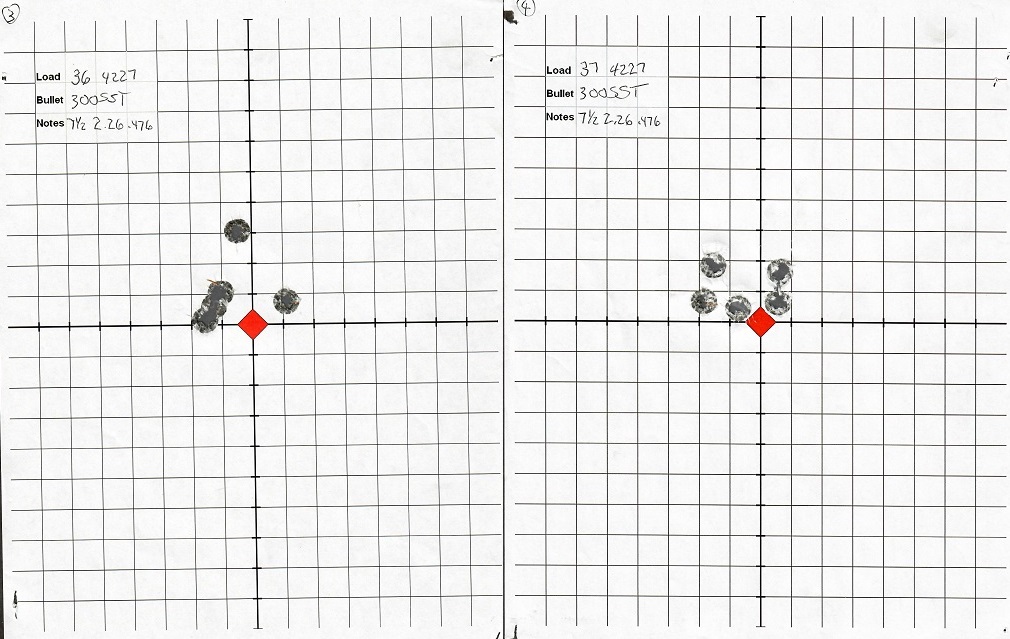 I left the range with a head full of quandary and an empty cooler... Certainly not the kind of results I'm used to getting in term of accuracy.
Don't let anyone kid you. A bad day at the range is not always better than a good day at work.
Hoot