Said hey babe, take a walk on the

mild

side...
The more diverse our sources of 450b firearms become, the more I realize its getting hard to provide relevance in my experiments, that everyone here can benefit from. When the only game in town was the Bushmaster products, people could reproduce each other's results pretty reliably. My own perspective on what this platform could do was colored by my particular upper, with what I now know to have my oft referred to "loosey goosey" chamber. This was also influenced by my lack of experience with high power straight walled calibers. Heck it was influenced by as much misunderstanding as it was enlightenment. I guess that's why experimenting more, can just as easily create as many questions as answers. The point of this
Midnight Confession
is that coming into experiments with misinformation can lead to misunderstanding the results as often as having the those results dispel them. My brain keeps getting in the way of my fingers making any sense tonight, so Hear My Confession:
I have dabbled with AA1680 over the years in this caliber, using 300gr XTP Mags, Speer Gold Dots and Deep Curls and Hornady SST/ML bullets. Lately, I'm eating my words of the past in rediscovering performance where in that past life, I got unspectacular results. The turning point may well wind up being a change in brands of upper I use or it could be just dumb luck. I wanted to try something that few may benefit from, but scratches an itch I had this time around. IE an esoteric experiment. Using the 300 SST, I compare the difference if any, in performance between AA1680 and Hodgdon CFE Black, the latter of which I knew nothing about, save that it was rated similar to 1680, but with Hodgdon's Copper Fouling Eraser additive. Turns out they're more alike than different, well almost...
I began by seeing how much of each would fit into a case with one of those long 300 SST's seated to 2.27 inches. They look very similar in consistency, save a slight difference in color. For that task, I have a special case that I use, which has the primer pocket drilled all the way through. I seat the bullet in question and fill the case from the rear until the powder when settled, comes up to where the primer would usually end at the flash hole. Once done, I pour the powder into my weighing pan and see what I get, then pull the bullet and return the case to its safe keeping place, for future use. I was surprised to find that both powders at max fill, weigh within .2gr of each other and that is down near the margin of error using this charging method. They could well be identical, as far as I could reliably determine. Knowing that historically, 1680 ran painfully slow and after a quick check with QuickLoad, I decided to load the experimental steps starting with that max charge and down a few steps. I should clarify in case you haven't already noticed, I rarely find a 450b recipe that benefits from charge increments less than 1 grain. Mainly because the typical velocity SD's I get in this caliber are so high as a function of the limitations put upon the crimp, that within the same charge weight, the velocities vary by as much as I could calculate being due if there were a 1 grain change in charge plus or minus. Not at all like bottleneck calibers in that regard, but that's just life with the 450b.
My ability to compose sentences that are not mind numbing is not getting any better the more I write tonight, so Too be continued.
2 weeks later:
Darn if I didn't forget all about this report.
Starting with 39gr and going up through the 42gr max charge, here's what I recorded, in spite of my temperamental LabRadar's best effort to thwart me. (I really need to get out more with it). I am slowly getting to know what not to do when setting it up.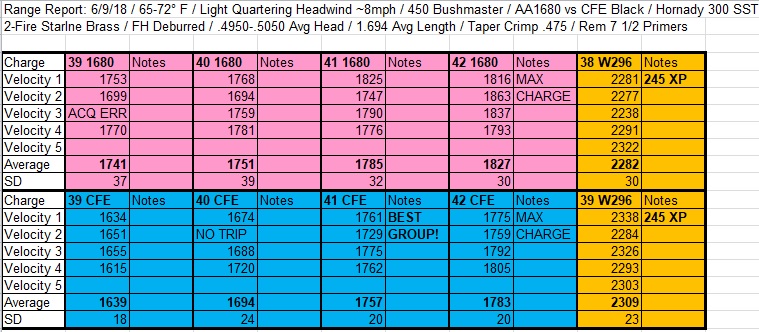 The orange results are a promised revisit to Lehigh Defense Xtreme Penetrators that I also did at the same range visit. I'll address them after I get done with the 300 SSTs.
As the results show, despite having the same packing density, the 1680 turned in velocities slightly higher than the CFE BLK, Not surprising as the CFE BLK is rated ever so slightly slower in the burn charts I saw online. I haven't had time to scope the bore to see if the CF really E's.
On to the groups and I have to say, were much better than previous attempts to evaluate 1680 with the aforementioned bullets in the past. Hardly a group in excess of 1 MOA C-T-C.
So, here's what they produced, target wise:
First up is a revisit to the Brass, Lehigh Defense, Xtreme Penetrators.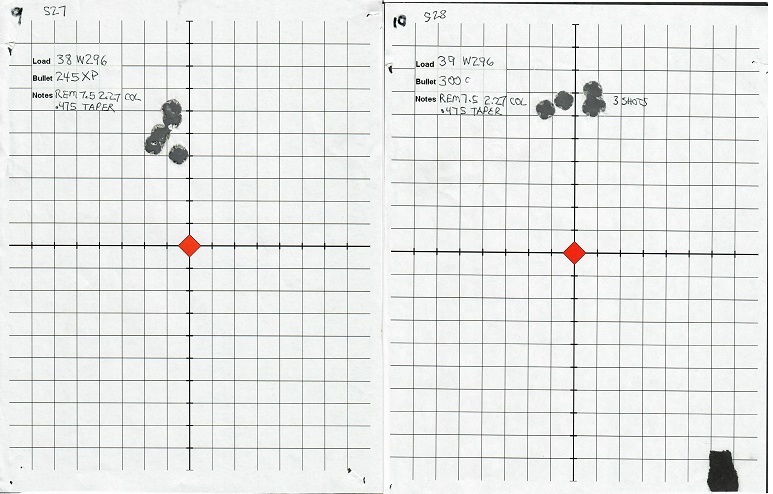 Not as Laser-Like as they did at higher, albeit worrisome velocities the last time out. Even at the high velocities the last time out, the Starline cases stopped just short of indicating critical pressure levels based upon casehead growth. So, if you're looking for single, jagged hole in a 1:24 system, think 2400 fps or more
if you feel lucky punk
. FWIW, the slower loads were still MOA C-T-C.
Now, on to the 300 SSTs over your grandma's powder. The targets show 4-shot 100yd groups instead of my usual 5-shot, to conserve available Starline brass that hadn't grown too much from the last time out.
These are arranged with competing powders side by side: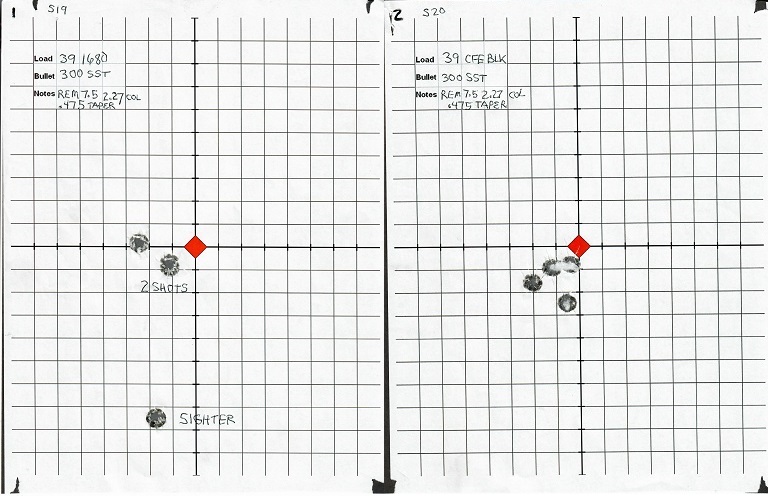 I need to get better at remembering where I left the scope sighted in at, so that I don't keep losing an opening shot to a sighter.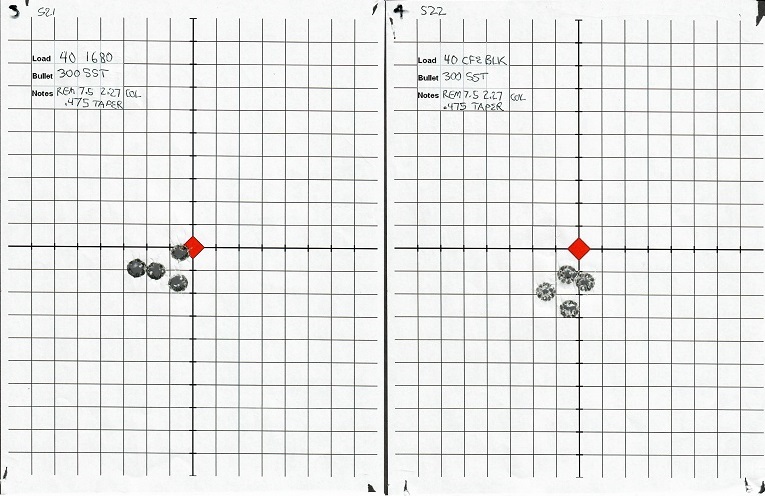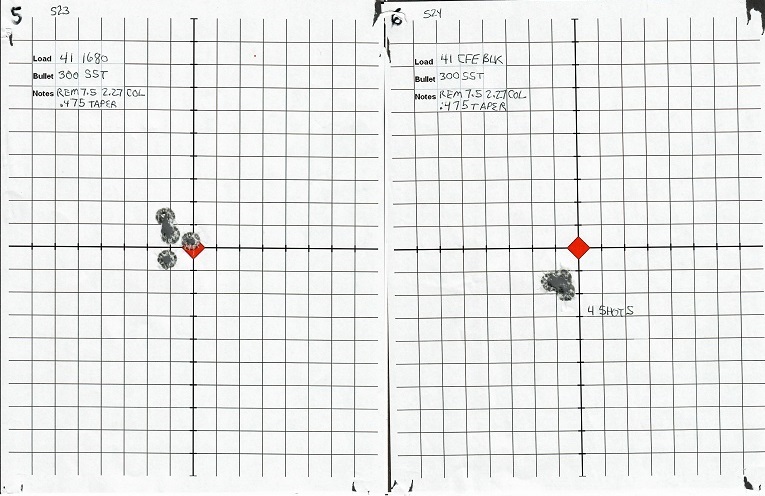 Boy, the 41gr of CFE BLK sure did well but that's not my favorite pair of targets.
This is!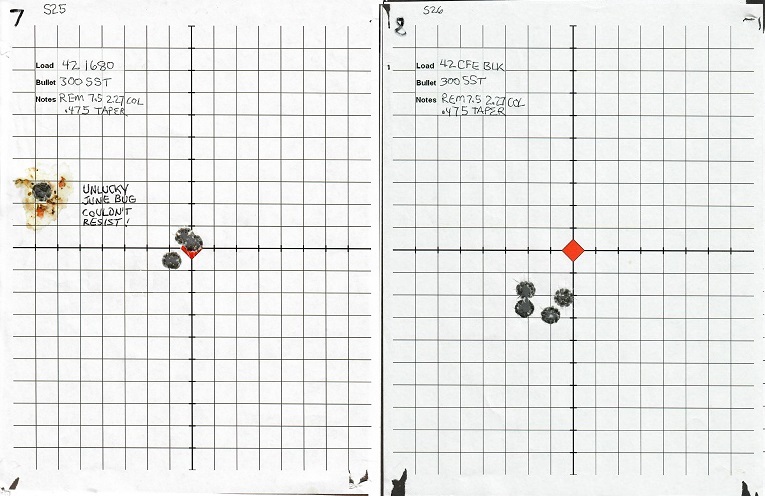 I'm not normally a gambling man but when I called out the June Bug which had lit on my target, Mike Freeman, who was shooting his scoped .243 Model 70 next to me, took a look and as I was breaking the 2-stage, he said "Dollar on the shot!" Thanks goodness he didn't say that sooner as I'm a known choker and worse yet, I didn't have any money with me. Ruined what probably would have been a great group, but ruined that June Bug's day even more.
So, in conclusion: If you're not all caught up on the bleeding edge of velocity, the Hornady 300gr SST over either of those two powders will produce some pretty good groups and is pretty easy on the shoulder to boot.
Hoot
and Mike Freeman says, doot doo-doot doo-doot doot doo-doot doot doo-doot doot....
RIP Lou Reed 1942 - 2013